Some diagrams to help to visualize the new rules on Supported (or Covered) Flanks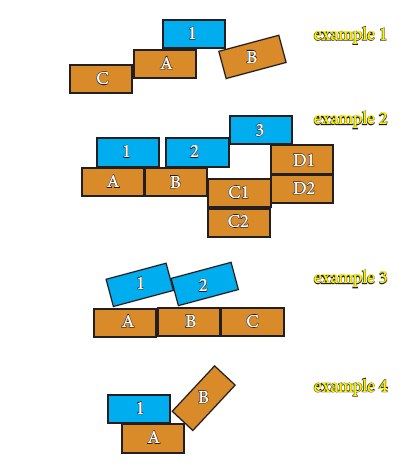 Lets' start with Example 1.
A is getting a Flank Support by C, not by B. Anyway B is a Support Unit in melee.
A gets a +1 from C as they form a kind of line,according to amendments.
B will support with half of his dice the multiple melee as in contact with 1.
Admin





Posts

: 893


Reputation

: 33


Join date

: 2014-05-15



Hi Lorenzo,

Thanks for starting to work on these. I think they will be helpful to those of use who are more visual learners.

If I understand one of the key concepts of your rules, in Example 1, there would be a melee round as soon as Unit A moved into contact with the enemy unit 1. Let us say that this is a draw and neither unit is forced to withdraw. In the same activation phase, Unit B moves up/in and makes contact and so, reignites the melee. After this second round there is still no resolution - everyone is just stuck in. Now, Unit C moves up, but can only provide support, so, a third round of melee is conducted. Perhaps with this third combat, there can be some sort of result.
Thanks again for the diagrams.

Chris
VBU 2





Posts

: 75


Reputation

: 3


Join date

: 2014-06-09


Age

: 53


Location

: USA - Midwest region




Similar topics
---
Permissions in this forum:
You
cannot
reply to topics in this forum