Hi
I am a newbie trying to build/ re-base an Italian Wars army. I would be grateful if someone could advise me on basing doppelsoldners. I have seen various references showing doppelsoldners mixed in with pike, and some showing ds's standing in front of pike in a single line. Should ds's be on the pike base? Should they be based separately as ordinary skirmishers, or should they be based as a single line and placed in front of the pike?
Any advice would be appreciated
Gerry
You can field them in their own units of S so can base them as such. Equally there is no reason not to have some scattered on your FP Pike bases. They wont affect the game but will look pretty!
VBU 2





Posts

: 54


Reputation

: 0


Join date

: 2014-08-04



OK, to be clear. Does that mean I base 5 x 28mm doppelsoldners on 3 or 4 cm by 12 cm bases? In a single row I suppose? I think somewhere in the depths of my shed this is what I originally did but then decided it was wrong so put them aside to paint yet more peninsular infantry.

Almost the same topic
Reading the main rulebook page 50, Francois French. as an example, you are allowed 0 - 4 Landsknecht squares each comprising..
3 Pike
1 Harguebusiers and
1 Doppelsoldner

So, I presume, 3 stands of pike placed one behind the other, touching. where do you place the Harquebusiers and the Doppelsoldners? The flanks would seem logical but does this mean you place the guns in front, and touching, the pikes with the two handed swords in front, touching, the guns?
Sorry to be dense, maybe I am over thinking this but I want to get it right before I set to re-basing my French and Italian 28 mm armies.
Thanks
VBU 2





Posts

: 1


Reputation

: 0


Join date

: 2015-10-27



" />
Not sure if this picture will work out - I think the key point is you have flexibility to do what you want. If you want to add some two handed weapons figures onto the front of the first pike block unit they do look good, but will count as being pike armed when playing. I think in the picture you can just see an example of this - very old Hinchliffe figures.
If you want to field an actual S skirmish unit then they would be have to based on a S sized base. I have 3 figures on a S base, so I have the flexibility to select and play with these if I want to add them in the army. Personally I have found that they often don't justify the 16 points they cost. If I do use them I either have them in front of the pike block as a screen or field them at the back, and they can burst through the pike block to attack.
Interested in any tips on how to use them though.
Cheers jez
VBU 3





Posts

: 204


Reputation

: 6


Join date

: 2014-05-19



url=http://www.servimg.com/view/18869502/10]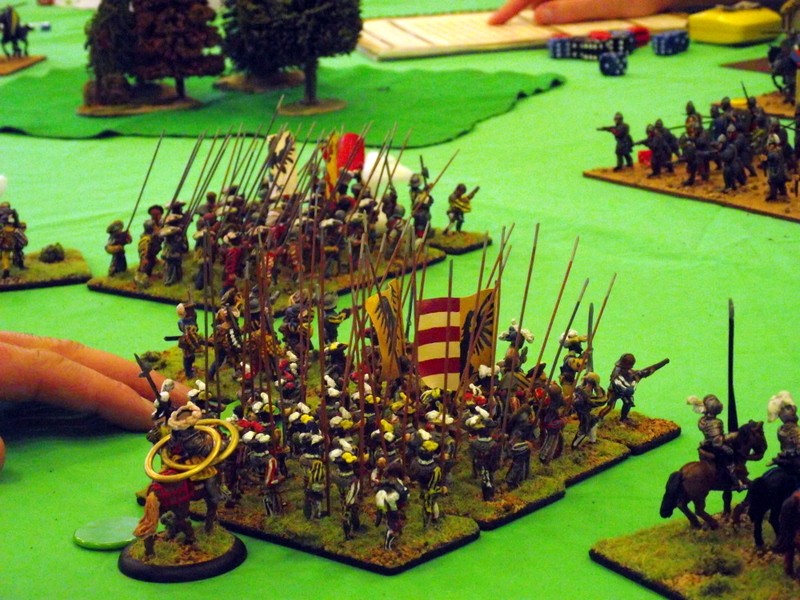 [/url]
Hi hopefully a better picture - this has a pike block with a unit of S skirmish shot in front and looks like a unit of T shooters to the side. There are no S dopplesoldiers specifically but the front pike unit has a few just for show.
For my T shooters I have based 9 fiures in a 3 x 3 mini block but think this is really just my style and a lot of T shooter units are just 5 figures spread out which also looks good.
VBU 3





Posts

: 204


Reputation

: 6


Join date

: 2014-05-19



I like the idea of the skirmishers hiding out back of the pikes and then moving through them to attack, or maybe fire? Wondering what this does to the pike block, if anything? Also, how's this working out for ya?
VBU 3





Posts

: 232


Reputation

: 6


Join date

: 2015-05-04




Similar topics
---
Permissions in this forum:
You
cannot
reply to topics in this forum